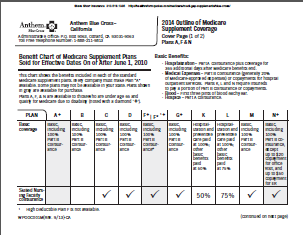 Anthem Blue Cross Medi-Gap Plans
HISTORICAL
Search engines, do not index
Keep your Original Medicare, and all your doctors.  Blue Cross Medi-Gap plans pay in addition what Medicare Pays under  Part A Hospital & , Part B Dr. Visits – namely, the 20% Co Pays. 
You still need to purchase Part D Rx.  Click here for our Blue Cross Affiliate Website where you can enroll online and get full information & details.

Outline of Benefits, Rates & Matrix  2017
INCLUDES the NEW Plan G!


Brochure   16 pages pdf
Email or call us 310.519.1335
Medicare plans are not affected by the 2018 withdrawal from 16 CA Regions
There is no extra charge for our services.  We are paid by Blue Cross to help you enroll and to consult with you year around.  Our broker ID is GFKGQSJSRZ.
It's best to apply when you turn 65 for the supplement plans or Advantage Plans, as that's the main "Open Enrollment" period, guaranteed issue for any plan.
Client  Resources
Anthem Whole Health Connection
Paper Application – including the Birthday & Guaranteed Issue Rules  –
Premium Payment Form We can also email you the application – might be easier to use the fillable form feature
We highly recommend that you review the publication Medicare & You #10050 it's very informative. 
Medicare & Blue Cross
Provider Finder  – Medi Gap Plans
WellPoint, Inc. Code of Conduct
Report Fraud Waste or Abuse to Blue Cross
Investor Information & Financial Strength
Membership Service Contacts
877.811.3107 
1-800-765-2585
 800-928-6201
800 333 3883
Child & Related Pages
Medi Gap Enrollment Dates & Guaranteed Issue
********************Comments****************************
Email dated 1.31.2014
Hi:
Just received a membership card from Blue of CA, called Silver Sneakers Fitness Program.  Called the gym listed – Canyon Crest Athletic Club (One of the premier clubs in Riverside), they told me with the card, I am essentially a full-fledged member of the club with access to all facilities!
Pretty good deal for $53 / month Insurance premium.
Just thought I'd share the good news.
Al
Brochure Outline of Benefits, Rates & Matrix  2015   *   2016
Brochure Matrix  2014
Historical  anthem.com Med Sup Plans
Anthem.com/
In 2014 High Deductible F & G will not be offered.  If you are currently on these plans, you may keep them. Blue Cross Blast 9.17.2013      Per email dated 1.14.2013