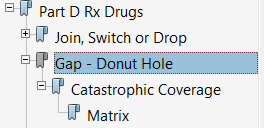 How does Part D Rx coverage work in the Coverage Gap – Donut Hole?
The "standard" Part D Rx coverage works like this for 2016 – 2017 Graphic, as explained in Medicare & You 10050 on Page 111.  We can help you shop and see what Part D Rx  PDP or MAPD Medicare Advantage Plans that include Part D Rx, might work best for you.
First there is a deductible of $360.
Second, you have Initial Coverage and pay $1,098 in Drug – RX costs  – 75% Drug Plan – 25% you.

Third you enter the Coverage Gap – Donut Hole
Part D will pay 42% for generic and 5% for brand name Rx, you pay the rest. The Drug Manufacturer will give you 1/2 off for brand name Rx. (See chart ). 
Fourth, after you pay out $4,850 you enter Catastrophic Coverage and you pay only 5% or $6.60 for a brand name and $2.95 for generic. Learn More ⇒ Medicare.Gov on better benefits through 2020

Yes, this gets confusing and changes every year.  Be sure to double check by clicking the charts and publications on the right and your Evidence of Coverage to verify the information on the plan you have.
Unfortunately, you are not allowed to buy extra coverage to cover the gap or donut hole. 
However, Insurance Companies do  offer better than the minimum standard, Part D plans, than what is shown above. Click here to enter your medications and comparison shop.  When you use HealthCompare.com, which includes NATIONWIDE Quotes, we get a finder's fee, but are not your agent. 
In CA we suggest that you use our affiliate Blue Cross  & Blue Shield websites where you can enter the Rx you take and get a print out of what your costs will be for the year. 
Resources & Links

Our Website Introduction to Medicare  Prescription Drug Plans – Part D Rx  (credible coverage),
Medicare.Gov on Part D Rx Coverage Gap
Your Guide to Rx Coverage Publication #11109  Page 15 Coverage Gap

Donut Hole Discounts  CA Healthline 2014
CA Health Advocates RX Medicare Drug Overview
How to get a formulary exception – if your Rx isn't on the list
Check your actual policy – Evidence of Coverage for details.
If you are getting Extra Help paying Part D costs – with the LIS – Low Income Subsidy you won't enter the coverage gap.
Call 310.519.1335 or email us if you have questions.
Technical Research Resources

Obama Care PPACA on closing the Donut Hole
The cost of the drug is the AWP (Average wholesale price). the actual drug manufacturer sets the price and when member is in donut hole they usually won't pay full price, they pay the AWP.
Trying to get the lowest costs in and around the donut hole.  We took Humira as an example and used Medicare.Gov (be careful and be sure to double check on the actual insurance company website – also, if you don't get coverage from a company we represent – we will NOT be your agent and cannot contact the Insurance Company on your behalf!)  Here's a pdf of the example or click on thumbnail at left to see a screen shot.
Child Pages
 Key words    donut hole medicare    medicare part d donut hole    2016 donut hole    donut hole 2016    medicare donut hole 2016    part d donut hole
part d donut hole donut hole medicare doughnut hole 2016 medicare part d donut hole 2016 aarp medicare part d medicare part d donut hole 2015 medicare donut hole explained donut hole insurance medicare donut hole 2015 medicare donut hole 2014 medicare doughnut hole medicare donut hole chart part d donut hole 2016 donut hole coverage gap hole coverage gap donut hole medicare 2014 2015 medicare part d donut hole medicare part d coverage gap 2015 medicare part d coverage gap donut graphic donut hole part d doughnut hole doughnut hole medicare coverage gap 2015 medicare donut hole 2015 chart donut hole medicare 2015 medicare part d doughnut hole insurance donut hole medicare part d donut hole 2014 doughnut hole 2015 medicare part d donut hole chart gap insurance graph coverage hole donut holes medicare donut hole aca part d coverage gap