This page is HISTORICAL.
Click here for most current information.
Graphics & Visuals

this one that really looks like a donut, 2015

or a 1 page explanantion from an enrollment guide page five.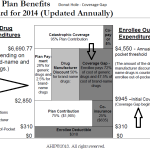 First there is a deductible of $360.
Second, you have Initial Coverage and pay $1,098 in Drug – RX costs – 75% Drug Plan – 25% you.
Third you enter the Coverage Gap – Donut Hole
Part D will pay 42% for generic and 5% for brand name Rx, you pay the rest. The Drug Manufacturer will give you 1/2 off for brand name Rx. (See chart ).
Fourth, after you pay out $4,850 you enter Catastrophic Coverage and you pay only 5% or $6.60 for a brand name and $2.95 for generic.